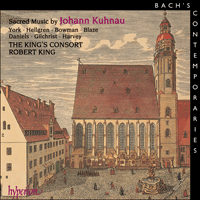 Last Tuesday was the 350th birthday of Johann Kuhnau, and by a sort-of coincidence I happened to be listening to this album of his music on that day. Sort-of coincidence because I didn't know it was his birthday, but I did know it was his anniversary year. Last week, I happened to come across his name in a notebook I kept many years ago (post on that to follow. It won't be worth the wait).
That reminds me
, I thought,
I must get that Kuhnau album
. So I did. Then it turned out it was his 350th birthday on Tuesday.
The CD is currently out of print, but you can download the album
from Hyperion
for £7.99. Worth every penny and then some, I'd say. This is thoroughly enjoyable stuff, chock full of tuneful chorales, lyrical arias, lively trumpets and drums... the sort of music that makes you very glad.
Grove
says "Critical opinion... has generally dismissed the cantatas as routine and uninspired, though competently composed. Such judgments are not borne out by the music itself". (Or, as Edmund Blackadder might say, there was only one flaw in that critical analysis: it was bollocks.)
Kuhnau died in 1722, and his post as Kantor at the Thomasschule in Leipzig was taken by some guy called Sebastian something.